Mrs. Perkins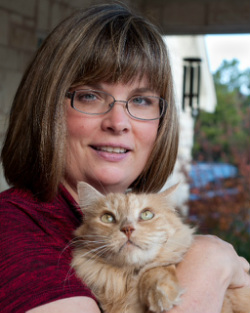 My name is Jann Perkins and I've been teaching and tutoring Math for over 28 years. I hold a BS in Education (Math and Science) from the University of Oklahoma. My professional experience includes teaching Special Education and Jr High Science in the public school system and High School Math and Science in private schools. I have 13 years of 'homeschool Mom' experience (graduated 2 daughters from our homeschool--both are now college grads!) and have been teaching ONLINE Math for the past 14 years.

Teaching Math--especially at the middle school and high school levels--is one of my greatest passions. My teaching and tutoring experiences have allowed me to learn and develop alternative ways of approaching math problems. I have had the privilege of witnessing many students who once felt like failures in Math suddenly find success.

I live in the beautiful hill country of central Texas with my husband of 33 years and the youngest of our three daughters. My hobbies (outside of teaching Math) include quilting and cake decorating. Most summers you will find me leading teacher conferences and loving on children at the Lulwanda Children's Home in Mbale, Uganda.



---
Mrs. Nowell

My name is Linden Nowell, and I'm a recently retired math teacher. My career has spanned 28 years in public and private schools where I've taught all levels of math from 5th grade through Pre-Calculus. I have a BS degree in Education (Math and Art) from Texas State University, a Master's degree in Curriculum and Instruction from Texas A&M University, and I am a certified Educational Diagnostician.

As a result of my varied classroom experiences, I have a unique and comprehensive understanding of the math curriculum and I know what students must learn to succeed in math at every level; my goal is to provide math instruction in a way that allows students to move forward in their education with confidence and success.

My home is in the beautiful hill country of central Texas, where I live with my husband, two Labrador Retrievers, and a Siamese cat, close to my two grown sons who live and work in Austin, Texas. Traveling, reading, and practicing Yoga are a few of my interests.