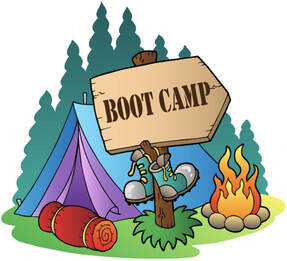 Boot Camp--available year round!
Boot Camps are a series of prerecorded summer Math workshops designed to review and reinforce critical concepts and skills necessary for success in the next level of high school Math.
Each short 5-20 minute Boot Camp lesson contains a clear teaching portion followed immediately by practice problems and worked out solutions to check for understanding (total lesson time is approximately 6 hours). There is a printable worksheet with answers to go along with each set to further reinforce the concepts.
Most students complete the program in 2-4 weeks.


***Click here for a sample Getting Ready for Algebra 1 Boot Camp Lesson***
---
Self-Paced Boot Camps:

Choose from 4 levels of Boot Camps: Tuition $40


Getting Ready for Algebra 1

This workshop is designed to help students gain confidence and transition easily from Pre-Algebra to Algebra 1. Topics covered include basic equation solving, word problems, linear equations and algebraic expressions (messy fractions).


Getting Ready for Geometry

Geometry is full of all sorts of new vocabulary and the dreaded proof. Start the course off right by learning foundational terms, important study skills and strategies as well as basic constructions.


Getting Ready for Algebra 2

Time to once again flex those Algebra muscles! This boot camp will help students get back into shape and transition back into Algebra after tackling Geometry. Common problem areas of Algebra 1 reviewed and conquered are: linear equations, factoring, algebraic expressions and those pesky word problems.
NEW for 2017: Getting Ready for Pre-Calculus by Mrs. Nowell
Beta version now available --
Click here to email Mrs. Nowell for more information
_
Email me at
myhomeschoolmathclass@gmail.com

for more details!